Additional Worship
Kim would like to share some additional worship music with you.
Children's Prayer Activity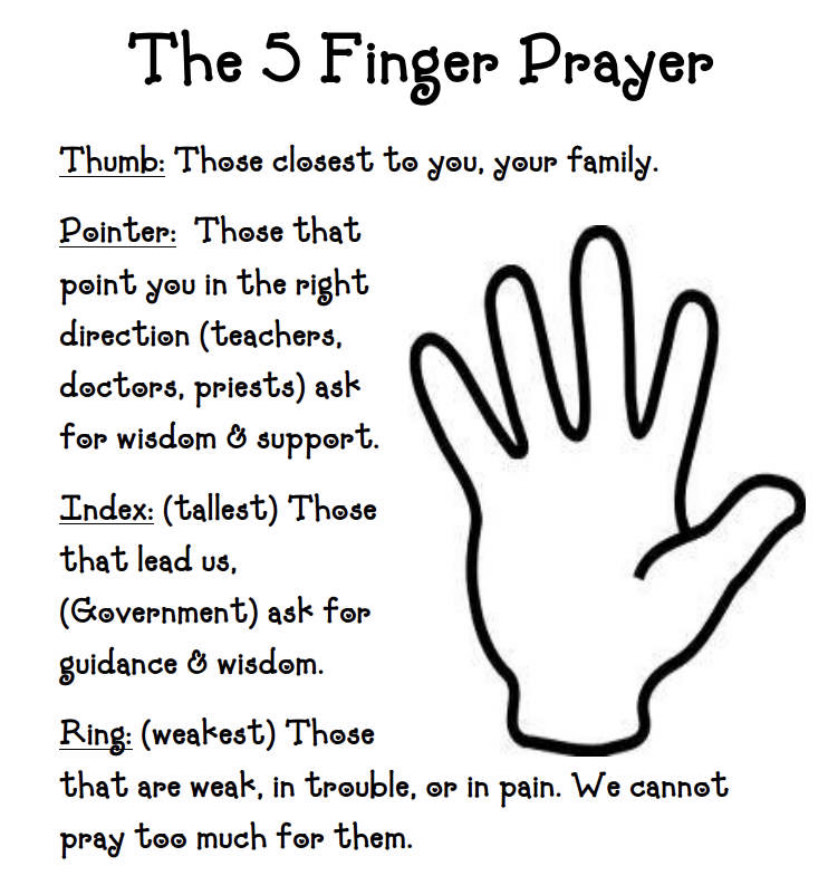 Words of Encouragement and Messages
An Act of Kindness is one way you can reach out and serve others. Here are a few examples of how you can do this through the lockdown:
Making your bed, baking for your family, doing your studies, helping your sibling/s, checking on your neighbours to see if they need anything or sending a simple text message to someone, to let them know you are thinking of them.
All of these are really important in life, because a simple act of serving others, can bring a smile to someone & change the way they feel & how they can view their day without you realising it. Let's all bring a little smile to someone today & throughout the week.
An encouraging story from Ashcombe Valley:
God's always there, a miracle working promise keeper, light in the darkness that is who He is (hopefully you recognise the song). I thought I'd share a couple of stories from the Ashcombe Valley that have brought joy to the Huggins family during lockdown.
Before Easter, Guy found some old pieces of wood and made them into a cross. He felt it right to put it up at the top of the field behind our house for all the valley to see. On Easter morning we had a simple service of thanksgiving by the cross with Rowland, Alli and two of our neighbours. Guy played a couple of verses on his trumpet of Thine be the Glory out over the fields. We had no idea how far this would travel until later. Then we were on a dog walk one of our neighbours was in her garden and we stopped for a chat (at a safe distance of course). She said how touched she'd been on Easter morning when she was making her coffee, to hear Thine be the Glory coming from the valley, it took her back to the days when she used to sing it and was surprised how much of the song she remembered. What a blessing that God used that moment to give her an opportunity to reconnect with him. We've been using our PA system to have a rave in the valley each Saturday evening from 7pm for 15 minutes. Uplifting happy songs that are easy to dance to. Everyone comes out into their garden and has a boogie, clapping, shouting and being joyful. We really are truly blessed where we live and don't take it for granted, rather use it as an opportunity to build community and share God's love. We now have a WhatsApp group too).
Thinking of God's love and taking it into the community, I'm aware of two individuals in our valley who have had letters from their Doctor to self-isolate. One of them lives directly across from us and so when I'm gardening I very often look over to their back garden. I thought it would be encouraging to let them know that when I see the view I pray. I wrote a card and popped it through their door and said, I know you can't get out at the moment and so are looking over the same view each day. This card (a beach scene from Cornwall) will give you a different view each time you look at it. I'd like to let you know that when I look at my view and see your home, I think and pray for you and your family. I got a text a couple of days later thanking me for the kind thoughts. I wonder if this too will remind them that God is working, even in this difficult time of COVID-19. There's opportunities everywhere for us to shine His light into people's lives, even when they see the current situation as dark and hopeless. There is a hope and a future through Jesus. God bless you all, hope to see you soon. Hazel
The "Joining Together" Group:
Last week Liz shared a good news story about a Facebook group that had been started. It involved cardboard figures being cut out and stuck on a fence. I attached a link to a BBC news broadcast, but it had timed out. If anyone is interested, here's is a link to the group on Facebook:
https://www.facebook.com/groups/3000722443283624/
Do you have any stories of what God has done recently that you would like to share? It could be a short video or something written. Maybe you have a prayer request. We could include some of these in next week's service. Please email these to the church office: officedcf@gmail.com
Giving
We would normally have a collection during our service. If you would like to give, you can still do so on-line. Please see our giving page.
This week's Notice Sheet
Do you know a DCF Church Member who is not on-line?
Do you know of someone who couldn't access this service on-line? If so, this week's notice sheet can be downloaded and printed below. There aren't any sermon notes this week. Why not phone someone up and explain the message to them instead? Please could you organise the necessary distribution the notice sheet through life groups, but if there are still those without access, please let the DCF office know. Thank you.
Covid-19 community support
The Dawlish Town Council has been working with various community organisations to produce a leaflet. It includes a support network of contact information to help local people during the current COVID-19 pandemic. It is being distributed across Dawlish, door to door from Saturday 21st March. More information, including PDF downloads of leaflets and a link to a dedicated website, can be found on our support during Covid-19 webpage.
Follow us on Facebook