New Church Community Centre for Dawlish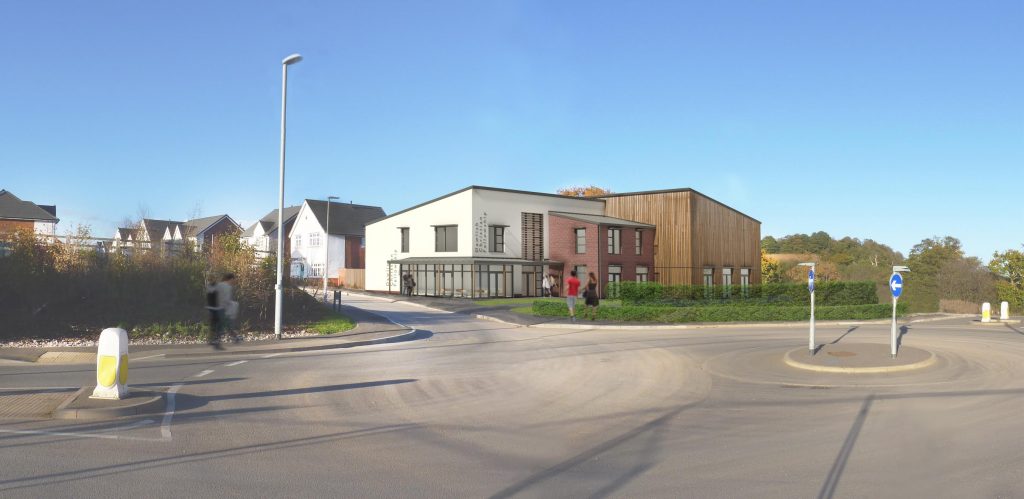 What is the Hope Centre?
A Church for all the new communities of Dawlish, which will also be a Centre comprising:
Coffee Lounge/Café, Auditorium, Function Room, Kitchen, Break-out Rooms, Office & Car Park.
Where is it?
Next to the mini roundabout at the junction with Swift Road, close to Sainsbury's Supermarket.
Who is building it?
Dawlish Christian Fellowship [Registered Charity No. 1178345]
When will it be ready to use?
We hope to open our doors by Summer 2021 – or earlier if we can!
Who is paying for it?
Dawlish Christian Fellowship and other funders
Does the building have full Planning Permission?
Yes. Teignbridge District Council and Dawlish Town Council have been very supportive of this Project, which forms part of their S.106 Agreement with the Housing Developer, Redrow Homes.
Are there any Planning restrictions on the use of the building?
A number of Planning Conditions were stipulated to protect the character and amenity value of the area that it seeks to serve. These include any potential issues surrounding parking, noise, lighting and odours.
Who will be able to use the Café?
The Café will be open to the public. It will be a meeting place for individuals and groups, as well as passing trade such as dog walkers from the nearby Country Park.
Who will be able to use the facilities?
The building is for the use of our Church and the local community under the management of Dawlish Christian Fellowship. As well as using it as a place of worship, we would want to say 'yes 'to any reasonable request to use its facilities for the benefit of the community – provided that use does not breach our Legal or Charitable obligations.
What kind of activities could happen in the building?
Subject to the above, we hope to welcome (for example): parent & toddler groups, knitting circles, book clubs, youth clubs, board gamers, luncheon clubs, children's parties, concert performances, film clubs … come and talk to us nearer the time!
Will there be a hire charge?
For people who seek a profit there will be a charge, however we hope to offer use for some non-profit making activities at a nominal cost, but we are in the process of formulating a fair policy for this.
What about traffic congestion?
We have planning permission for a car park next to the building, and will put other arrangements in place for events requiring more spaces. We will specify that there should be no parking by users of the Hope Centre on nearby residential roads.
Who can I contact if I have concerns about contractors on the site?
We seek to ensure that all of our contractors minimise their impact on local residents, but if you have any concerns or questions regarding the construction process, please contact:
Project Manager: John German 07811 431558
(J. German Developments Ltd)
Who can I contact if I have further questions?
DCF, Unit 2, Black Swan Business Park, Dawlish EX7 0FQ
t: 01626 888469 e: officedcf@gmail.co.uk
Information about the building project
We are starting to put articles up about how the building project is progressing.